How to Start a Trucking Business With One Truck and Single Profile

Jason Jimenez-Vanover
Talks of recession have affected the business community, and the supply chain is no exception; still, there is hope for rebalancing. As normalcy returns, more entrepreneurs are looking for the next opportunity, and many will move forward with plans to start a trucking business and make it grow. However, finding the best way to market your trucking company is challenging, but there is a massive opportunity for success.
Why?
The transportation consumer price index has risen 27% yearly, reports the Bureau of Transportation Statistics (BTS), meaning there is money to be made. Here are five must-haves on how to start a trucking business with one truck and a single online profile.
1. Get Your Experience in Front of Prospects
Having experience in several areas of the trucking industry will give you a head start before you start a trucking business. Nothing beats real road time, and your experience will show prospects what you can handle. Write this into your company brief, a short synopsis of the freight you like and what you can do. CarrierSource helps to make this possible by listing your company's overview publicly, and you can customize the overview section upon request.
Sign up for CarrierSource to customize your digital trucking profile now.
2. Choose a Niche
Identifying the type of freight you want to haul is part of choosing a niche in trucking. There are many possibilities, such as hazardous cargo (HAZMAT), food and beverages, reefer, CPG, electronics, and more. Further, transporting high-value freight, such as petroleum products, affiliated machinery, medical supplies, and pharmaceuticals, is very lucrative. But there's more risk also involved. It's up to you to make the best decision and find your transportation carrier niche.
3. Begin Budgeting and Build a Simple Business Plan
Trucking is a capital-intensive industry. It's essential to have an easy-to-follow business plan to get organized and set an initial budget. While planning, consider the following factors:
Initial Capital
Operation Expenses
Marketing & Strategy Expenses
Market Analytics
Knowledge of Competition
Team
4. Get Your Assets and Funding in Order
Getting your truck is the first true step to launching a trucking company. Remember that the cost of a truck can easily surpass $200,000, depending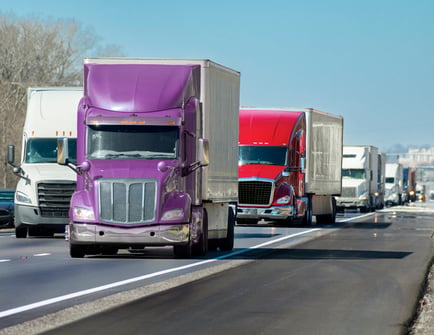 upon the features. According to Equipment Finance, purchasing a high-end semi-truck is more costly than getting a used international or Volvo truck, which will range from about $100,000. But there's also the funding side to consider.
Several banks and government organizations help fund freight start-ups, and leasing options are also available for those who qualify.
Some ways to secure funding for your trucking business include:
SBA - The Small Business Administration can be a great funding resource, provided the trucker qualifies. Long credit history and credit standing are required to qualify for these loans.
Term Loans for Small Businesses - Short-term loans for small business are a great way to fund your new trucking business. These are more flexible than SBA's loans but can charge higher interest.
Freight factoring - Factoring companies purchase invoice payments from truckers for a small percentage of the trucker's profit. Such invoices can become collateral for getting funds, thus eliminating the risk of high-interest loans from banks.
5. Stay Compliant
Truckers must be aware of compliance with the current tax policies, safety rules, and time-sensitive filing requirements. Staying compliant will keep the business running smoothly. Complying with FMCSA rules and regulations will keep you in good standing and include admirable reviews to help bring in more business. Trucking companies must also maintain liability insurance to cover potential damages or bodily injuries.
Grow and Start Your Trucking Business With CarrierSource.
Make sure you follow all the steps above on how to start your trucking business with one truck. In addition, there is one other trick you must follow from the very beginning. Most people read online reviews and ratings before engaging in business. Your online marketing is a crucial component of your trucking business's success. CarrierSource can help you achieve those goals with a pre-spun profile and means of reaching significantly more prospects than trying to build a site on your own.
Visit CarrierSource.io, search for your trucking company, and click claim your profile to get started. Or connect with a CarrierSource team member, and we will help you maximize your efforts!