How to claim your CarrierSource page

Clara Flaherty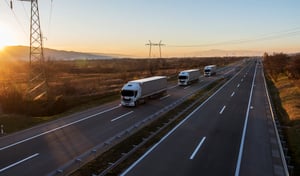 When brokers and shippers are searching for their next carrier, they go online to see all of the companies running their lanes. They're focused on quickly finding the best carrier to move their freight, and with a filled out CarrierSource page you make it easier for them to find you the exact moment they are deciding which carrier to hire.
Once a broker or shipper clicks on your listing from CarrierSource they can see at a glance your contact details, insurance information, and safety ratings. With so many trucking companies, how can you make sure your business stands out?
What does claiming your CarrierSource page mean?
When you claim your CarrierSource page, you gain full access to edit and manage the listing. Claiming your page is 100% free. It allows you to edit the information on your page and access our unique tools and metrics that will help you grow your business. You can add truck and shipment types, upload photos, respond to reviews, and more! Most importantly, claiming your CarrierSource page empowers you to share your unique story with thousands of brokers and shippers every month and ultimately maximize your bookings.
Not only will you be able to develop and broadcast your company's personality, carriers who claim their page and update their information appear higher in search results, get more profile views, and are four times more likely to get contacted by new customers.
How to claim your CarrierSource page
Go to CarrierSource at carriersource.io/signup
Create a CarrierSource account using your email or LinkedIn
Verify your email by checking the email you used to create your account (skip this step if you used LinkedIn)
Find your business by entering your MC number, and a good phone number
What to do after you claim
Take a load off
First, pat yourself on the back and celebrate that you have taken this major step toward growing your business. By claiming your page, you have put yourself back in the driver's seat and now have the ability to share your story in your own words.
Update your information
Your CarrierSource page is your first impression to thousands of brokers and shippers. Make sure your company information is up to date and accurate to ensure potential customers know exactly what services you offer. Without basic details like truck types, shipment types, and whether you offer any specialized services, brokers and shippers may think you can't handle their freight and move onto the next business.
Share a description of your business
Your CarrierSource page is an opportunity for you to tell the world what makes your company special. After you claim your free page, you can write a description to let potential customers know more about your business, history, values, and specialties.
Respond to reviews
After claiming your page, you might find that you already have some reviews. Responding to any reviews you have are a great way to show brokers and shippers that you value their opinion and are making adjustments based on their feedback.