Getting Started on CarrierSource

Clara Flaherty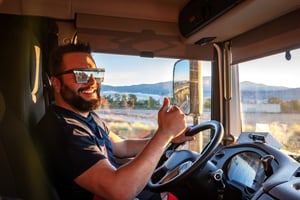 Once you've claimed your carrier listing, you can quickly start attracting new customers by filling out your page. Thousands of brokers and shippers use CarrierSource every day to move their freight, and they're ready to book. We want to make sure you're as visible as possible at the exact moment they are choosing a carrier.
Update your company information
Your company information is the core of your CarrierSource page. Keeping this information filled out and accurate will make you stand out from the crowd. Carriers with a filled-out page are four times more likely to get contacted by the brokers and shippers visiting CarrierSource.
Upload a photo or logo
To get started, you should log in to your carrier dashboard and upload a logo if you have one, or a picture of your truck. This will make your page immediately stand out in search results, inspiring more people to click on your listing to learn more
Share your story
Next, you'll want to add a company description. It should include things like preferred lanes, what type of work you do, company values, and anything else you want to highlight. This space is yours to broadcast to potential customers who you are and why they will love working with you. If you need help writing a great description, please email us at support@carriersource.io.
Update services
Add your truck types, shipment types, and any specialized services you offer. This will help brokers and shippers understand if you can handle the freight they are trying to move. Keeping this information accurate will save you time answering redundant questions about the type of jobs you can do, and result in more relevant loads booked!
Confirm contact info
Finally, confirm that your contact email and phone number are correct. If you have a company website, now is the time to add that. If not, no worries! A CarrierSource page is the only online presence you need to grow your business. You can also add the two main reps who will be handling your CarrierSource listing.
We do some of the work for you
We work with the government to import your information on a daily basis. Your freight types, fleet size, safety, and insurance info, will all be kept accurate with the latest data from the FMCSA.
Spread the word and gather reviews
Respond to reviews
Once you start getting your first few reviews (you might already have some!), you'll want to respond to them all.
If the review is positive, thank them and encourage them to keep you in mind next time they're moving freight in your area. If a review is negative, thank them for sharing such honest feedback, and tell them the steps you are taking to make sure their next experience is positive.
Responding to reviews shows potential customers that you are listening and value feedback. It also gives you the opportunity to get ahead of any problems your customers may have experienced.