Find the best carrier to move your freight

Clara Flaherty
One of the main reasons we built CarrierSource, is because our team saw how hard it is for brokers to prospect and book good carriers. We hope CarrierSource will be your number one tool when finding the best carrier to move your freight!
How CarrierSource helps brokers
Reviews + FMCSA Information
Too often, you're forced to blindly book a carrier with no view into their level of service or ability to get the job done. When you visit a carrier's profile on CarrierSource, you'll not only see their FMCSA safety and insurance information but you'll find real user reviews from their previous customers. This lets you know that you are choosing the best carrier to move your freight. Once you find a carrier that fits the bill, you can access their contact information right from the site.
Detailed Filters
CarrierSource is a comprehensive database of every government registered carrier in Canada, Mexico, and the United States. You can search by city, zip code, carrier name, and docket number. Our detailed filters help you narrow your search even more to quickly find the right carrier for your load. With options like shipment type, authority history, fleet size, and radius, you can easily source the carriers that best fit your needs. The extra options ensure that you can find exactly who you need, when you need them.
Private Lists
With a CarrierSource account, you're able to keep private lists with notes to help organize the carriers you want to work with.
Have a group of go-to carriers in the midwest? Add them to a "Best of the Midwest" list in your CarrierSource account so you can always find them again.
Want to remember a particular detail about a carrier? Add a note to their profile so you never forget it.
Once you create a CarrierSource account, you'll see a "Save Carrier" button show up on every carrier profile you visit, as well as in search results. Clicking it will then prompt you to save to a list you've previously created, or to start an entirely new list with that carrier. You can access all your lists in your dashboard.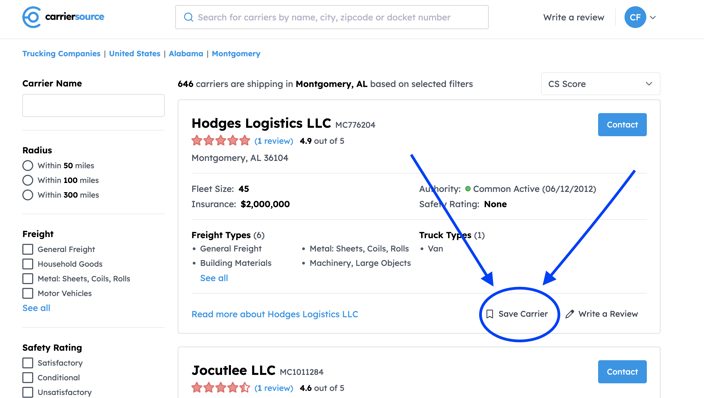 Review Carriers
Finally, you can write reviews of all the trucking companies you've used to help your peers sift through the volume. By sharing your unique experiences through carrier reviews, you'll help drive transparency and trust throughout the entire logistics industry.