4 Strategies to Start a Box Truck Business

Jason Jimenez-Vanover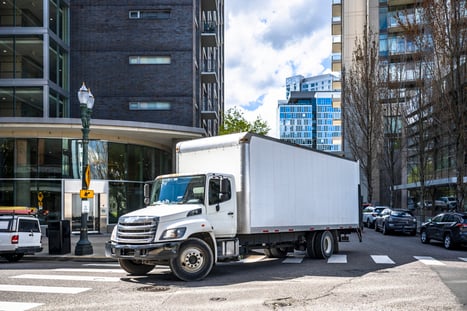 Box trucking companies use box trucks that offer delivery and moving services, also called box vans or cube vans, which get their name from how their cargo compartment is shaped. In a box truck, the cargo area is entirely separate from the cab and sits on a frame, which cannot be accessed from the cab's interior.
Despite the fierce competition in the logistics industry, box truck businesses are growing in recognition due to the forever expanding popularity of online purchasing. As reported by DataIntelo, "The global box trucks market is projected to grow at a CAGR of 4.3% during the forecast period, 2019-2030. The demand for single bridge and double bridge box trucks in various industries such as commercial, military, and industrial will drive the growth of the global box truck market."
Given such growth, more people are thinking about starting a box truck business, but what is it exactly?
A box trucking business allows for flexibility and a potential for a high income. With minimal overhead expenses, this transportation carrier niche is growing in demand. You might ask yourself, how do I start a box truck business? Differentiate your sole proprietorship from others with ingenuity and innovation. You may quickly get your business up and running by leveraging the suggestions below.
1. Mind the Details
Often, the small details of starting a trucking business, like obtaining a business license, are overlooked. However, these are the most crucial aspects of starting any small business entity, especially a box trucking company. This includes following all Federal Motor Carrier Safety Administration (FMCSA) regulations, insurance, bonds, trucks, tech, and planning. A few specific steps to meeting these requirements include:
Insurance - Research and choose the appropriate insurance for your box truck business. Compare coverage and select the right fit for your limited liability company.
Regulations - Get up to speed on all Motor Carrier Safety Administration regulations to avoid fines and hurdles in the future. Educate yourself and any hired help.
Bonds - Bonds are legally binding agreements. Examples of required bonds in the box trucking business include COD bonds, US Customs bonds, and Freight Broker bonds.
Trucks - Follow all Federal Motor Carrier Safety suggestions and make sure that trucks are mechanically up to par. Maintain routine inspections to ensure the safety of all drivers.
Tech - Use current technology that will benefit your trucking business. From a

trucking company website

to real-time data tracking, the technology offered in today's atmosphere is limitless.
Planning - Create and follow your business, operations, and financial plans. This should include start-up costs,

how to find truck loads for owner-operators

, projections, management, and marketing.
2. Establish Word of Mouth Connections
Word-of-mouth marketing, one of the most underutilized marketing channels available for box truck (and frankly all) business owners, happens when a business has such a significant impact on a customer that they want to spread the word to friends and family. But in business, it can be difficult to figure out how to achieve this goal.
That's where aggregating reviews from your past customers comes into play. CarrierSource provides a single resource for gathering and posting your reviews, and with the trust of the freight industry behind CarrierSource, you're sure to realize more success and word-of-mouth business just by asking for reviews!
There are countless opportunities for box truck owner operators to share their business, so check your personal and professional networks and contact people who may have connections to or are interested in a box trucking business. You will attract new clients or come across companies with which you could collaborate to find truck loads. It is vital to always ask clients for referrals and reviews for long-term retention.
3. Take Advantage of Partnering Marketing Tools
Email marketing for trucking companies is a way to reach targeted clients that need your box trucking business. Choosing the right partners, such as CarrierSource, will add their connections to your email efforts by building an email list, including inclusion in newsletters and marketing ads. This strategy works by introducing yourself to a customer and developing solid brand awareness while gradually guiding them through the sales process.
Claim Your CarrierSource Profile Now.
4. Get a Professional, Quality Website
Create a website for your box truck business. This option is incredibly cost-effective, but learning how to create a website can take time and effort. Using a third-party company is beneficial in this situation.
Your box truck business website is your online presence and is there to persuade potential customers of your professionalism and expertise. Online is where freight shippers are looking for freight load carriers and a box trucking business. Offer a website with customer reviews so they can see what you have to offer. Choose a website that is user-friendly and offers pre-built templates and themes. Also, be sure to connect your website to social media accounts.
Easily Establish Your Box Trucking Business With CarrierSource
An excellent method to become your own boss is to start a box truck business. Compared to other business initiatives, startup costs are minimal, but depending on the clients you serve and how rapidly you can expand your business, the earning potential is endless.
Educate yourself and stay current on all regulations, bonds, codes, and insurance. Establish word-of-mouth connections by gaining reviews. Marketing tools and a quality website will make or break a business. Take the guesswork out of all this strategy and claim your free profile with CarrierSource today!